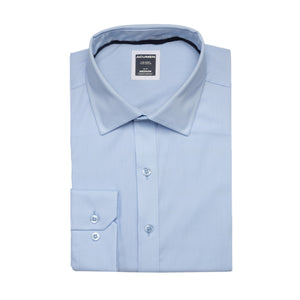 Blue Chip Blue Executive
Executive category shirts are classically designed dress shirts ideal for the professional man.  These shirts have the crispness needed for a suit and tie or a day at the office in business casual.  Equipped with medium stretch and wrinkle resistance, the Executive category is perfect for that big presentation or important interview!
Free shipping on orders $100+
ACUMEN athletic fit dress shirts are tapered to fit and flatter most body types so you can look and feel your best. The v-shaped cut keeps shirts from being too baggy around the waist or too tight across shoulders and underarms.
58% cotton, 19% coolmax, 18% nylon, 5% spandex
Wrinkle resistant with medium stretch
Breathable
Button cuff
Brass collar stays