Propitious Pique Renaissance Man Set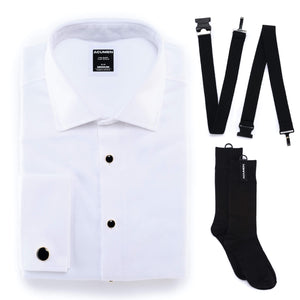 Propitious Pique Renaissance Man Set
$110.00
Regular price
$120.00
The ACUMEN Set means your socks stay up while your shirt stays down!
This set includes:
Propitious Pique Renaissance Man
Bonus Black Socks
Bankable Black Shirt Stay
Renaissance Man tuxedo shirts are for evening wear and special occasions. Have a wedding this weekend or a work formal? We have you covered! And no need to supply your own hardware, we supply the buttons and cufflinks as part of the shirt. Some Renaissance Man shirts can be worn with or without a tuxedo!

Offered with gold or silver cuff links & studs.

Free shipping on orders $100+
Shirt
98% polyester, 2% spandex
Wrinkle resistant with medium stretch
Breathable
Brass stud buttons
French cuff with brass cufflinks
Brass collar stays
Socks
Super soft material
97% polyester, 3% spandex
Shirt Stay
100% soft elastic
Our shirt stays are designed to work uniquely with our patent pending Set, and are NOT compatable with non-ACUMEN shirts and socks